Kettlebells Strengthen the Spine
Strengthening the spinal muscles is essential for health and fitness. Functional kettlebell training is resistance training that strengthens the spine. Kettlebell training is an extremely effective type of exercise to increase functional strength, ballistic power, endurance, and flexibility in the entire body, especially the spinal and core muscles.
(Exercise shown is Anchor Squats.)
What Exactly Are Kettlebells?
Kettlebells are round cast iron weights with a single handle. Picture a cannonball with a u-shaped handle. Kettlebells are manufactured in a wide range of weights, for all strength levels.
Muscles Used in Kettlebell Training
Kettlebell training incorporates large functional movements. Multiple muscle groups work in synergy to complete the exercises. The spinal muscles function as either the primary mover or assist the primary mover in every kettlebell exercise. The spinal muscles also stabilize the body during functional kettlebell training, thus developing the smaller supporting structures.
(Exercise shown is Push Press.)
High Reps Of High Importance In Kettlebell Training
Kettlebell training employs high repetitions, momentum, and centrifugal force. Momentum works the spinal muscles as the weight is raised and lowered. High repetitions combined with momentum and full body movement build strength and endurance in the entire musculoskeletal and cardio-vascular systems. Kettlebell training delivers aerobic and anaerobic benefits.
(Exercise shown is High Pulls.)
Always Learn From A Qualified Kettlebell Instructor
Perfect technique is mandatory during exercise. Correct exercise technique maximizes benefit and lowers injury risk. Poor exercise form increases the possibility of injury and diminishes results. Kettlebell exercises are learned motions, so you should learn proper training technique from a qualified kettlebell trainer. The trainer should demonstrate, instruct, and supervise your training and develop your routine.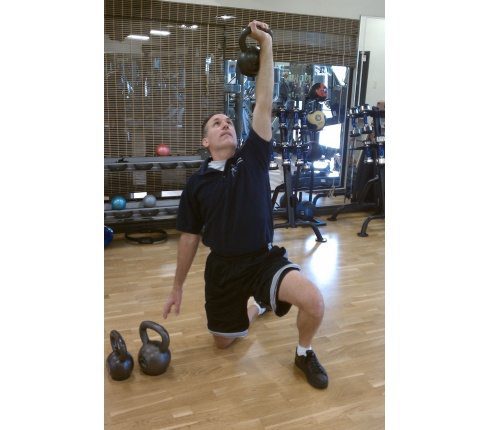 (Exercise shown is Turkish Get-up.)
So Many Possibilities
The kettlebell's shape allows for a wide variety of exercises. This resourceful exercise tool is used for basic exercises like squats (shown in slide 1), cleans, swings, high pulls (shown in slide 4), snatches and push presses (shown in slide 3). The versatility of the kettlebell is demonstrated with exercises such as renegade rows (a combination of push-ups and rows—shown in slide 6), suitcase swings, woodchoppers (a combination of lunges and oblique twists), windmills, and Turkish get-ups (shown in slide 5)
(Exercise shown is Renegade Rows.)
Kettlebell's Benefits For The Spine
Functional kettlebell training is a rare type of exercises that increases aerobic and anaerobic health simultaneously. The benefits to the spine include increased strength, power, endurance, flexibility, function and mobility.
(Exercise shown is Suitcase Swings.)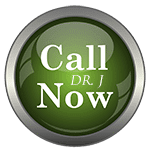 Chiropractor & Functional Medicine Practitioner ⚕Injury & Sciatica Specialist • Author • Educator • 915-850-0900 📞
We Welcome You 👊🏻.
Purpose & Passions: I am a Doctor of Chiropractic specializing in progressive, cutting-edge therapies and functional rehabilitation procedures focused on clinical physiology, total health, practical strength training, and complete conditioning. We focus on restoring normal body functions after neck, back, spinal and soft tissue injuries.
We use Specialized Chiropractic Protocols, Wellness Programs, Functional & Integrative Nutrition, Agility & Mobility Fitness Training and Rehabilitation Systems for all ages.
As an extension to effective rehabilitation, we too offer our patients, disabled veterans, athletes, young and elder a diverse portfolio of strength equipment, high-performance exercises and advanced agility treatment options. We have teamed up with the cities premier doctors, therapist and trainers to provide high-level competitive athletes the possibilities to push themselves to their highest abilities within our facilities.
We've been blessed to use our methods with thousands of El Pasoans over the last three decades allowing us to restore our patients' health and fitness while implementing researched non-surgical methods and functional wellness programs.
Our programs are natural and use the body's ability to achieve specific measured goals, rather than introducing harmful chemicals, controversial hormone replacement, un-wanted surgeries, or addictive drugs. We want you to live a functional life that is fulfilled with more energy, a positive attitude, better sleep, and less pain. Our goal is to ultimately empower our patients to maintain the healthiest way of living.
With a bit of work, we can achieve optimal health together, no matter the age or disability.
Join us in improving your health for you and your family.
It's all about: LIVING, LOVING & MATTERING! 🍎
Welcome & God Bless
EL PASO LOCATIONS
Central:
6440 Gateway East, Ste B
Phone: 915-850-0900
East Side:
11860 Vista Del Sol, Ste 128
Phone: 915-412-6677