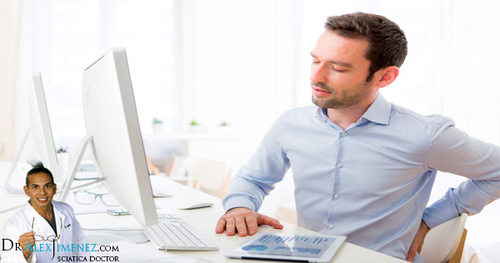 Over-exercising, lifting, bending, or twisting abruptly into awkward positions, and even driving for extended periods of time, can strain the sciatic nerve, leading to lower back pain which radiates into the back of the legs as well as other numerous symptoms, known as sciatica.
Approximately 5 to 10 percent of individuals experience some form of low back pain from sciatica. Most commonly seen in people ranging from 18 to 35 years of age, the prevalence of sciatic symptoms varies tremendously from 1.6 percent throughout the general population to 43 percent in a selected working population. Unfortunately, only 30 percent of individuals suffering from sciatica seek medical attention only after experiencing these painful symptoms for a year or more. In a majority of cases, sciatica is caused by a herniated disc involving nerve root compression.
Not all individuals with lower back pain have sciatica. Lower back pain could result from a variety of factors, most frequently seen in sedentary workers who sit behind a desk for an extended period of time with improper posture while not following ergonomics.
Dr. Alex Jimenez D.C.,C.C.S.T's insight:
Back pain is a common symptom affecting a wide range of individuals. Various factors can cause back complications but when a person's lower back pain begins to radiate down into the back of the legs, it could be another issue. Approximately 5 to 10 percent of individuals experience low back pain due to sciatica. Characterized as a group of symptoms rather than a single condition, sciatica can often make an individual's lifestyle more difficult than a simple low back problem. For more information, please feel free to ask Dr. Jimenez or contact us at (915) 850-0900.