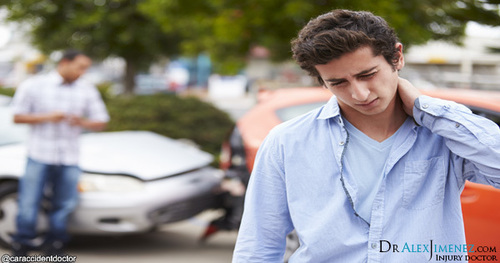 Auto accidents aren't necessarily the only cause behind whiplash, but they do occur more frequently during these incidents. Whiplash can result from any motion in which the head is abruptly jolted forward and then backwards at an increased speed. The accelerated movement often leads to the irritation and inflammation of the ligaments and tendons found in the neck, occasionally causing a tear within these complex tissues.
A doctor who specializes in auto accident injuries can properly identify the presence of whiplash and follow up with the most appropriate treatment program to decrease and eliminate the pain and other symptoms associated with the injury as well as restore the individual's flexibility. A medical doctor, an orthopedic, physical therapist, primary care physician and a chiropractor, are several different types of healthcare specialists who focus on different complications and can treat automobile accident injuries and conditions.
Many individuals who've been involved in a car accident, don't receive the proper health care they need and deserve for their whiplash injuries. Ultimately, the type of doctor an auto accident victim receives treatment from can determine their outcome for recovery. It's important to be well-informed of the training and expertise of a whiplash doctor before accepting treatment because not all of the above mentioned healthcare specialists will treat whiplash injuries.

Dr. Alex Jimenez D.C.,C.C.S.T's insight:
Whiplash is a common type of neck injury, frequently resulting from a variety of auto accidents, the wide majority caused by rear-end auto collisions. For those individuals who've sustained a whiplash-related injury after being involved in an automobile accident, the kind of doctor they should seek to proceed with treatment must specialize in automobile injuries for the best recovery results. For more information, please feel free to ask Dr. Jimenez or contact us at (915) 850-0900.