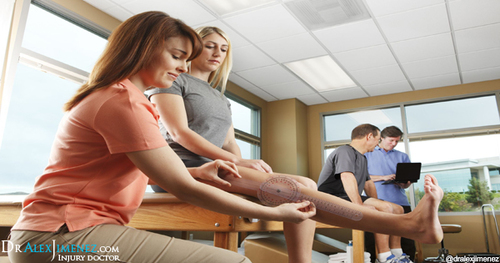 Hyperextension Knee Injuries Associated with Sports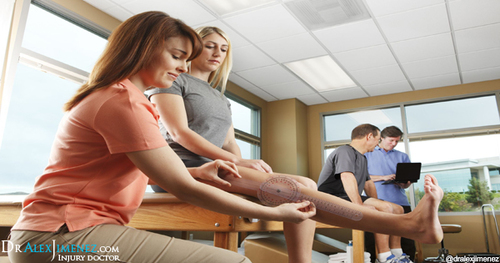 The infrapatellar fat pad is identified as an extrasynovial structure which is located on the anterior of the knee, away from the area of the patella. It's characterized as a mobile formation and its shape, volume and pressure is altered with the movement of the knee. The infrapatellar fat pad attaches anteriorly to the immediate patellar tendon and inferior pole of the patella, posteriorly attaching to the intercondylar notch of the femur and in some individuals, the ACL. It is a heavily vascularized structure, also innervated by branches of the obturator, saphenous and the well-known peroneal nerve. The fibres which denote pain from the stimulation of the nerve cells are most dense in the central and lateral sections of the infrapatellar fat pad.
Injuries or conditions affecting the infrapatellar fat pad may commonly result from a direct blow or as a result of chronic irritation due to hyperextension knee injuries. Both conditions present a series of painful symptoms which can be debilitating. Individuals or athletes with these types of complications experience knees that hyperextend and they may walk with poor quad control and knee hyperextension. The IPFP, or infrapatellar fat pad, can also become injured as a result of direct trauma to the knee, either through a blunt force or through shear injury along with a patellar dislocation or ACL rupture.
Individuals with hyperextension knee injuries originating from infrapatellar fat pad issues often describe a sharp, burning and/or aching deep pain on either side of the patellar tendon. Certain sports or physical activities, including maximal knee extensions or basic activities which require active knee extension, such as going upstairs or prolonged knee flexion, may aggravate the symptoms of hyperextension knee injuries from the IPFP.
Dr. Alex Jimenez D.C.,C.C.S.T's insight:
Hyperextension knee injuries can vary from acute to chronic and these are generally painful. The infrapatellar fat pad, abbreviated as IPFP, is one of the most frequently affected structures due to hyperextension knee injuries. In the presence of an acute knee hyperextension injury, for instance, when an athlete is tackled in rugby, the posterior cruciate ligament, or PCL and/or the posterior lateral corner, or PLC, of the knee may suffer injury. For more information, please feel free to ask Dr. Jimenez or contact us at (915) 850-0900.
Chiropractor💡 Author • Researcher • Injury & Trauma Clinician • Wellness Educator • 915-850-0900 📞
We Welcome You 👊🏻.
Purpose & Passions: I am a Doctor of Chiropractic specializing in progressive cutting-edge therapies and functional rehabilitation procedures focused on clinical physiology, total health, functional strength training and complete conditioning. We focus on restoring normal body functions after neck, back, spinal and soft tissue injuries.
We use Specialized Chiropractic Techniques, Balanced Diet Plans, Agility Training programs, Cross-Fit techniques, the PUSH-Rx Rehabilitation System and a highly specialized program for our Veterans.
We've been blessed to use our methods with thousand of El Pasoans over the last 27 years. This has allowed us to improve health and restore true fitness through researched non-surgical methods and wellness programs. These programs are natural and use the body's own ability to achieve goals of improvement, rather than introducing harmful chemicals, controversial hormone replacement, surgery, or addictive drugs. We want you to live a life that is fulfilled with more energy, positive attitude, better sleep, less pain, proper body weight and informed on how to maintain this way of life.
As an extension to dynamic rehabilitation, we too offer our patients, disabled veterans, athletes, young and elder a diverse portfolio of strength equipment, high performance exercises and advanced agility options. We are very proud to have teamed up with the cities premier therapist and trainers in order to provide high level competitive athletes the option to push themselves to their highest abilities within our facility.
Come learn how to improve your health for yourself and your loved ones.
With a bit of work, we can achieve optimal health together, no matter the age or disability.
Its all about: LIVING, LOVING & MATTERING! 🍎
God Bless
2 CONVENIENT LOCATIONS:
CENTRAL ELPASO:
6440 Gateway East, Suite B
EAST SIDE ELPASO:
11860 Vista Del Sol, Suite 128
PHONE: 915-850-0900 ✔️