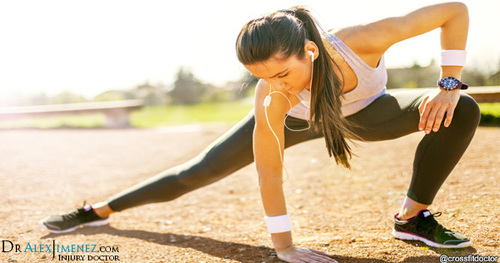 Shin splints, or MTSS, occurs most frequently in specific groups of the athletic population, accounting for 13-20 percent of injuries in runners and up to 35 percent in military service members. Medial tibial stress syndrome is characterized as pain along the posterior-medial border of the lower half of the tibia, which is active during exercise and generally inactive during rest. Athletes describe feeling discomfort along the lower front half of the leg or shin. Palpation along the medial tibia can usually recreate the pain.
There are two main speculated causes for medial tibial stress syndrome. The first is that contracting leg muscles place a repeated strain upon the medial portion of the tibia, producing inflammation of the periosteal outer layer of bone, commonly known as periostitis. While the pain of a shin splint is felt along the anterior leg, the muscles located around this region are the posterior calf muscles. The tibialis posterior, flexor digitorum longus, and the soleus all emerge from the posterior-medial section of the proximal half of the tibia. As a result, the traction force from these muscles on the tibia probably aren't the cause of the pain generally experienced on the distal portion of the leg.
Another theory of this tension is that the deep crural fascia, or the DCF, the tough, connective tissue which surrounds the deep posterior muscles of the leg, may pull excessively on the tibia, causing trauma to the bone. Researchers at the University of Honolulu evaluated a single leg from 5 male and 11 female adult cadavers. Through the study, they confirmed that in these specimens, the muscles of the posterior section of muscles was introduced above the portion of the leg that is usually painful in medial tibial stress syndrome and the deep crural fascia did indeed attach on the entire length of the medial tibia.
Doctors at the Swedish Medical Centre in Seattle, Washington believed that, given the anatomy, the tension from the posterior calf muscles could produce a similar strain on the tibia at the insertion of the DCF, causing injury.
Dr. Alex Jimenez D.C.,C.C.S.T's insight:
Medial tibial stress syndrome, commonly referred to as shin splints, is not considered to be a medically serious condition, however, it can challenge an athlete's performance. Approximately 5 percent of all sports injuries are diagnosed as medial tibial stress syndrome, or MTSS for short. For more information, please feel free to ask Dr. Jimenez or contact us at (915) 850-0900.