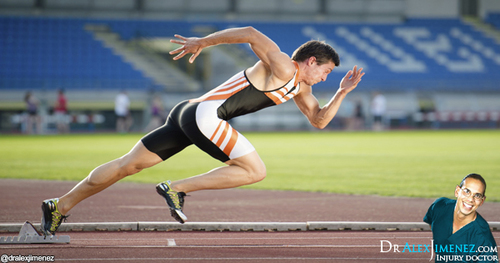 During single extremity weight bearing exercises, such as stance phase of walking or running, lunging and landing from a jump, amongst others, the lower extremity joints are designed to naturally absorb the impact of gravity being placed against the body. When the force of gravity acts upon the body, the joints move into distinct directions and the muscles need to properly function as to counteract these forces. Generally, these muscles function isometrically and/or eccentrically. For instance, with the absorption movements of a pelvic lateral tilt, the hip abductors work to stabilize the movement. With an anterior pelvic tilt absorption movement, the pelvic posterior tilters such as the gluteals and hamstrings work to stabilize mobility. With hip joint flexion, adduction and internal rotation, the muscles are controlled by the gluteus medius and other hip joint external rotators, such as the gemellus muscles, quadrutus femoris, obturator muscles and the piriformis. And finally, the quadriceps controls the absorption movements of a knee joint flexion, the soleus of an ankle dorsiflexion and the tibialis posterior, FHL and FDL, stabilizes midfoot pronation.
The gluteus medius is a proximal hip muscle which purpose is to control proximal pelvic/hip joint motion that in turn controls lower limb kinetics around the knee and ankle. The gluteus medius attaches to the iliac crest and inserts onto the greater trochanter, functioning as a hip abductor, hip external rotator and stabilizer of the pelvis on the femur during stance phase of gait. It's most significant role, however, is to compress the femoral head into the acetabulum during the stance phase of gait. The muscle is divided into three equal parts: anterior, middle and posterior.
The fibres which make up the posterior section of the muscle travel parallel with the neck of the femur while the middle and anterior sections travel vertically from the iliac crest to the anterosuperior feature of the greater trochanter. It's been suggested, that each individual part of the muscle functions independently from each other as each of the three portions contain their own supply of nerves which run through the superior gluteal nerve.
Dr. Alex Jimenez D.C.,C.C.S.T's insight:
The gluteus medius plays an important role in stabilizing the pelvis during the stance phase of gait and it also functions to control the sagittal, frontal and coronal planes of movement of the lower extremities during stance phase. An injury or condition affecting the gluteus medius can frequently be associated with a wide variety of musculoskeletal syndromes, including back, hip and knee complications.For more information, please feel free to ask Dr. Jimenez or contact us at (915) 850-0900.