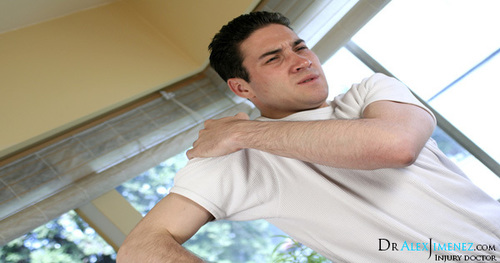 The shoulder has a wider range of motion than any other joint in the body. The rotator cuff consists of four muscles and tendons which merge together to surround and protect the shoulder joint. The rotator cuff attaches the humerus to the shoulder blade, mainly functioning to provide motion to the arm, allowing it to lift and rotate in a broad extent of motions.
A tear is characterized when one of the four muscles and/or tendons around the shoulder joint become damaged or injured, usually from repetitive overuse of the shoulder, or in other cases, as a result of direct trauma from being involved in a forceful automobile accident. When a single or multiple of the rotator cuff tendons is torn, the tendon no longer fully attaches to the head of the humerus. Different types of tears may occur. A partial tear is identified as damage to the soft tissue where it hasn't been completely severed. A full-thickness tear, also referred to as a complete tear, is identified when the soft tissue splits into two pieces. In a majority of cases, tendons may tear where they attach to the shoulder joint. With a full-thickness tear, there is essentially, a gap in the tendon.
Rotator cuff tears are most often associated with rear-end collisions, however, any type of car accident can lead to shoulder injury. During an auto accident, many individuals tend to tense up and brace their hands against the steering wheel which causes the shoulders to absorb a large amount of the force from the impact. Rotator cuff tears are very likely to occur in this instance.
Dr. Alex Jimenez D.C.,C.C.S.T's insight:
Rotator cuff tears are a common cause for debilitating symptoms among adults. A torn rotator cuff often leads to shoulder weakness, greatly restricting a person's normal range of motion and making everyday activities difficult. There are many causes behind this type of shoulder injury, but rotator cuff tears resulting after an automobile accident, although often misconceived, are more frequent than people foresee. For more information, please feel free to ask Dr. Jimenez or contact us at (915) 850-0900. 
See on elpasochiropractorblog.com
Advanced Chiropractic & Wellness Authority ⚕ Healthcare Educator • Injury, Sciatica Specialist • 915-850-0900 📞
We Welcome You 👊🏻.
Purpose & Passions: I am a Doctor of Chiropractic specializing in progressive, cutting-edge therapies and functional rehabilitation procedures focused on clinical physiology, total health, practical strength training, and complete conditioning. We focus on restoring normal body functions after neck, back, spinal and soft tissue injuries.
We use Specialized Chiropractic Protocols, Wellness Programs, Functional & Integrative Nutrition, Agility & Mobility Fitness Training and Rehabilitation Systems for all ages.
As an extension to effective rehabilitation, we too offer our patients, disabled veterans, athletes, young and elder a diverse portfolio of strength equipment, high-performance exercises and advanced agility treatment options. We have teamed up with the cities premier doctors, therapist and trainers to provide high-level competitive athletes the possibilities to push themselves to their highest abilities within our facilities.
We've been blessed to use our methods with thousands of El Pasoans over the last three decades allowing us to restore our patients' health and fitness while implementing researched non-surgical methods and functional wellness programs.
Our programs are natural and use the body's ability to achieve specific measured goals, rather than introducing harmful chemicals, controversial hormone replacement, un-wanted surgeries, or addictive drugs. We want you to live a functional life that is fulfilled with more energy, a positive attitude, better sleep, and less pain. Our goal is to ultimately empower our patients to maintain the healthiest way of living.
With a bit of work, we can achieve optimal health together, no matter the age or disability.
Join us in improving your health for you and your family.
It's all about: LIVING, LOVING & MATTERING! 🍎
Welcome & God Bless
EL PASO LOCATIONS
Central:
6440 Gateway East, Ste B
Phone: 915-850-0900
East Side:
11860 Vista Del Sol, Ste 128
Phone: 915-412-6677