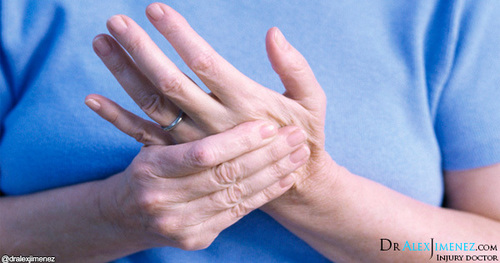 Carpal Tunnel Syndrome and Chiropractic Treatment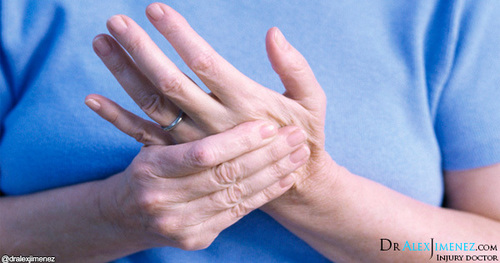 Carpal tunnel syndrome is a frequently diagnosed medical condition, characterized by pain, numbness and tingling sensations in the hand and arm. The well-known condition develops when one of the major nerves which runs through the hand, medically referred to as the median nerve, is compressed or impinged as it travels through the carpal tunnel, a narrow passageway within the wrist that is surrounded by rigid tissues, making it minimally capable of stretching or increasing in size.  
The median nerve originates from a bundle of nerve roots found in the neck. These roots merge into a single nerve in the arm, where it then travels down the arm and forearm, passing through the carpal tunnel at the wrist and into the hand. This main nerve functions to provide feeling in the thumb and index, middle and ring fingers. The median nerve is also in charge of controlling the muscles around the base of the thumb.
Carpal tunnel syndrome is a common condition which may occur due to a variety of factors. Research shows that women and older individuals have a higher chance of developing this uncomfortable condition.
Dr. Alex Jimenez D.C.,C.C.S.T's insight:
In today's world, however, everyday activities, such as typing and texting, can often cause more than temporary soreness on the extremities. The repetitive movements of the wrist over time may irritate the surrounding tissues, leading to damage, injury, and even the development of uncomfortable conditions like carpal tunnel syndrome. For more information, please feel free to contact us at (915) 850-0900. 
See on elpasochiropractorblog.com
Chiropractor💡 Author • Researcher • Injury & Trauma Clinician • Wellness Educator • 915-850-0900 📞
We Welcome You 👊🏻.
Purpose & Passions: I am a Doctor of Chiropractic specializing in progressive cutting-edge therapies and functional rehabilitation procedures focused on clinical physiology, total health, functional strength training and complete conditioning. We focus on restoring normal body functions after neck, back, spinal and soft tissue injuries.
We use Specialized Chiropractic Techniques, Balanced Diet Plans, Agility Training programs, Cross-Fit techniques, the PUSH-Rx Rehabilitation System and a highly specialized program for our Veterans.
We've been blessed to use our methods with thousand of El Pasoans over the last 27 years. This has allowed us to improve health and restore true fitness through researched non-surgical methods and wellness programs. These programs are natural and use the body's own ability to achieve goals of improvement, rather than introducing harmful chemicals, controversial hormone replacement, surgery, or addictive drugs. We want you to live a life that is fulfilled with more energy, positive attitude, better sleep, less pain, proper body weight and informed on how to maintain this way of life.
As an extension to dynamic rehabilitation, we too offer our patients, disabled veterans, athletes, young and elder a diverse portfolio of strength equipment, high performance exercises and advanced agility options. We are very proud to have teamed up with the cities premier therapist and trainers in order to provide high level competitive athletes the option to push themselves to their highest abilities within our facility.
Come learn how to improve your health for yourself and your loved ones.
With a bit of work, we can achieve optimal health together, no matter the age or disability.
Its all about: LIVING, LOVING & MATTERING! 🍎
God Bless
2 CONVENIENT LOCATIONS:
CENTRAL ELPASO:
6440 Gateway East, Suite B
EAST SIDE ELPASO:
11860 Vista Del Sol, Suite 128
PHONE: 915-850-0900 ✔️