Can the effects of vertebral decompression relieve individuals with herniated discs and reduce intradiscal pressure on the spine?
Introduction
The spine's main job is to maintain the vertical pressure of the body without feeling pain or discomfort, especially when a person is in motion. The spinal discs are between the spinal joints, which are shock absorbers when pressure is implemented when a person is carrying a heavy object. The spinal column also has the spinal cord and nerve roots that are spread out from each section and have nerve root signals to be transmitted back and forth from the muscles to the brain to carry out its function. However, as the body ages, so does the spine, as many individuals are constantly adding unwanted pressure on their spines by doing normal factors and developing musculoskeletal disorders. At the same time, the spinal discs are also being affected as the unwanted pressure compresses them constantly, causing them to crack and herniate out of their position. To that point, the herniated disc aggravates the spinal nerve roots, leading to pain-like symptoms affecting the upper and lower body extremities. When this happens, many people will begin to experience musculoskeletal pain and cause overlapping risk profiles that cause their bodies to be misaligned. However, non-surgical treatments can be implemented as part of a daily routine for individuals dealing with herniated discs to reduce intradiscal pressure off the affected muscles in the upper and lower body extremities and restore functionality to the body. Today's article focuses on why herniated disc affects many people and how vertebral traction can reduce intradiscal pressure off the spine while relieving the musculoskeletal system. Additionally, we work hand-in-hand with certified medical providers who incorporate our patient's information to reduce intradiscal stress correlating with herniated discs. We also inform them that vertebral traction therapy (spinal decompression) can help mitigate the pain-like symptoms associated with herniated discs and provide relief to the body. We encourage our patients to ask profound questions while seeking education from our associated medical providers about their pain-like issues. Dr. Alex Jimenez, D.C., incorporates this information as an educational service. Disclaimer
Why Does Herniated Disc Affect People?
Have you or your loved ones been dealing with muscle aches or strains in their back, neck, or shoulders after carrying/lifting a heavy object? Do you feel a numbing or tingling sensation in your hands, legs, or feet after a long day after work? Or have you been constantly dealing with muscle and joint stiffness after a long workday? At some point in their lives, everyone has dealt with pain affecting their upper and lower extremities, leading to herniated discs in the spine's upper, middle, or lower portions. As stated earlier, the body and the spine age naturally, leading to the development of herniated discs in the spine. Disc herniation occurs when the nucleus pulposus (inner disc layer) starts to break through the weaker annulus fibrosus (outer disc layer) and compress the surrounding nerve root, leading to an overlapping risk profile to the upper and lower body portions. (Ge et al., 2019) Disc herniation is developed when the spine goes through a natural degeneration, which causes them to be more susceptible to microtears. When individuals start to do normal activities like lifting or carrying heavy objects, it can enhance the progression further, leading to musculoskeletal disorders. Additionally, the spinal degeneration associated with disc herniation can cause inflammatory responses when the protruding disc is compressing the nerve roots, which then causes symptoms of pain and numbness to the upper and lower extremities. (Cunha et al., 2018)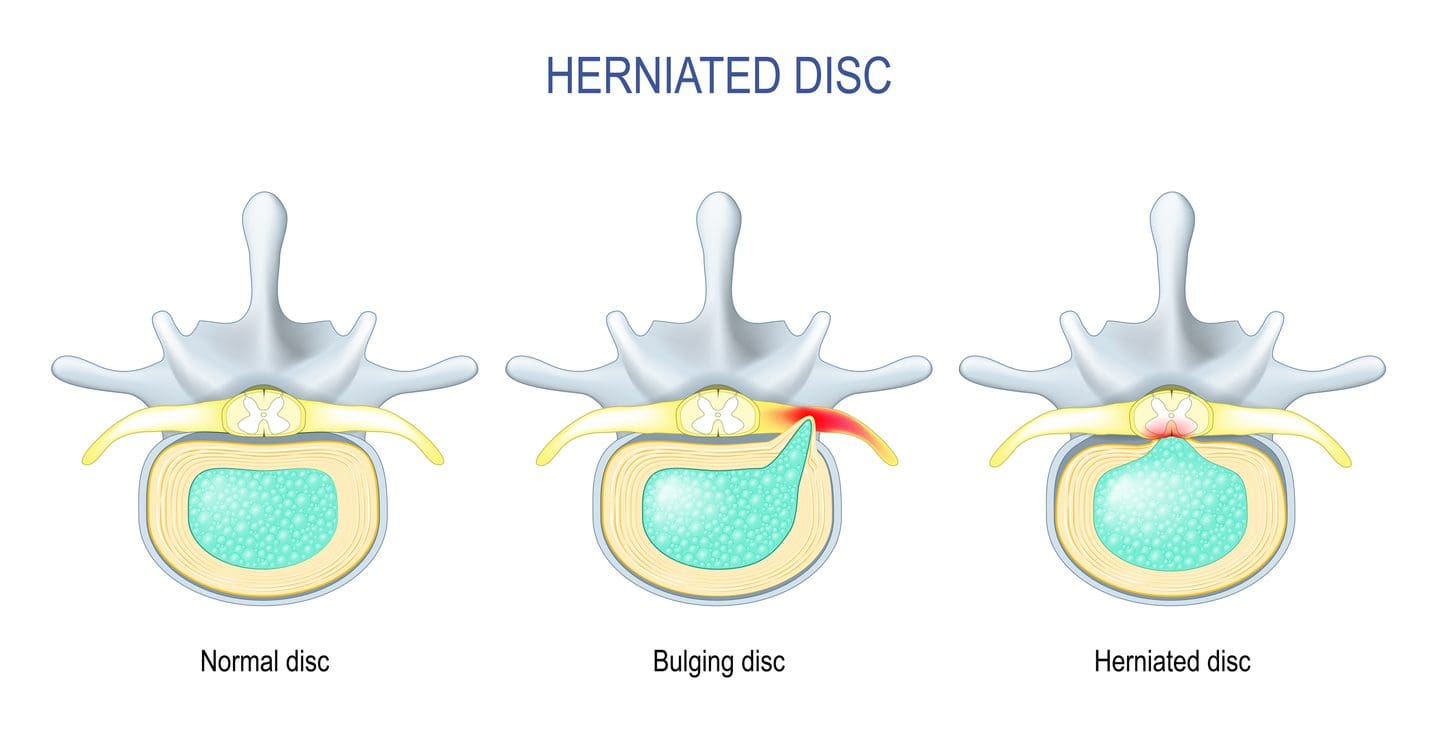 Why do herniated discs cause inflammatory responses to the compressed nerve roots that cause pain-like symptoms to the upper and lower body extremities? Well, when many individuals are experiencing pain associated with herniated discs, they believe they are dealing with upper or lower pain, depending on where the herniated disc is located. This causes referred pain symptoms where the pain is being perceived in one location than the site where the pain is originating. Coincidentally, when individuals are doing repetitive motions associated with herniated discs can cause the adjacent nerve root to be compressed, which then causes the surrounding muscles, ligaments, and soft tissues to be in pain. (Blamoutier, 2019) Pain developing from herniated discs can reduce a person's quality of life and make them miss out on important life events.
---
Disc Herniation Overview-Video
Many factors associated with a herniated disc can lead to its development and range from mild to severe depending on where the disc is herniated. Since the spine and spinal disc do degenerate over time naturally, it can cause the disc to crack and dehydrate. This leads to restricted movement, the development of neck, back, and shoulder pain, a decrease in muscle strength in the extremities, and numbness. (Jin et al., 2023) These are some results when herniated discs are not being treated right away. Luckily there are non-surgical treatments to alleviate the pain-like symptoms associated with herniated discs and help reduce intradiscal pressure in the spine while restoring spinal mobility and muscle strength. Spinal decompression, chiropractic care, massage therapy, and physical therapy are some non-surgical treatments that can help alleviate herniated discs and its associated symptoms. Non-surgical treatments can help pull the herniated disc off the compressed nerve root through manual and mechanical manipulation and return it to its original position. Additionally, non-surgical treatments can be part of a daily health and wellness routine combined with other therapies to reduce pain-like symptoms associated with herniated discs and help restore the spine's mobility. The video above explains the causes, factors, and symptoms associated with herniated discs and how these treatments can alleviate the pain.
---
The Effects Of Vertebral Traction On Disc Herniation
Non-surgical treatments like vertebral decompression can provide a positive outlook when reducing the effects of herniated discs. Vertical or spinal decompression can help reduce the underlying problem associated with herniated discs by relieving the pain and intradiscal pressure off the vital structures of the spine. (Ramos & Martin, 1994) Additionally, vertebral decompression uses gentle traction to relieve nerve pain associated with herniated discs. It helps reduce the compression force on the affected spinal discs, reducing nerve compression by expanding the disc height in the spine. (Wang et al., 2022)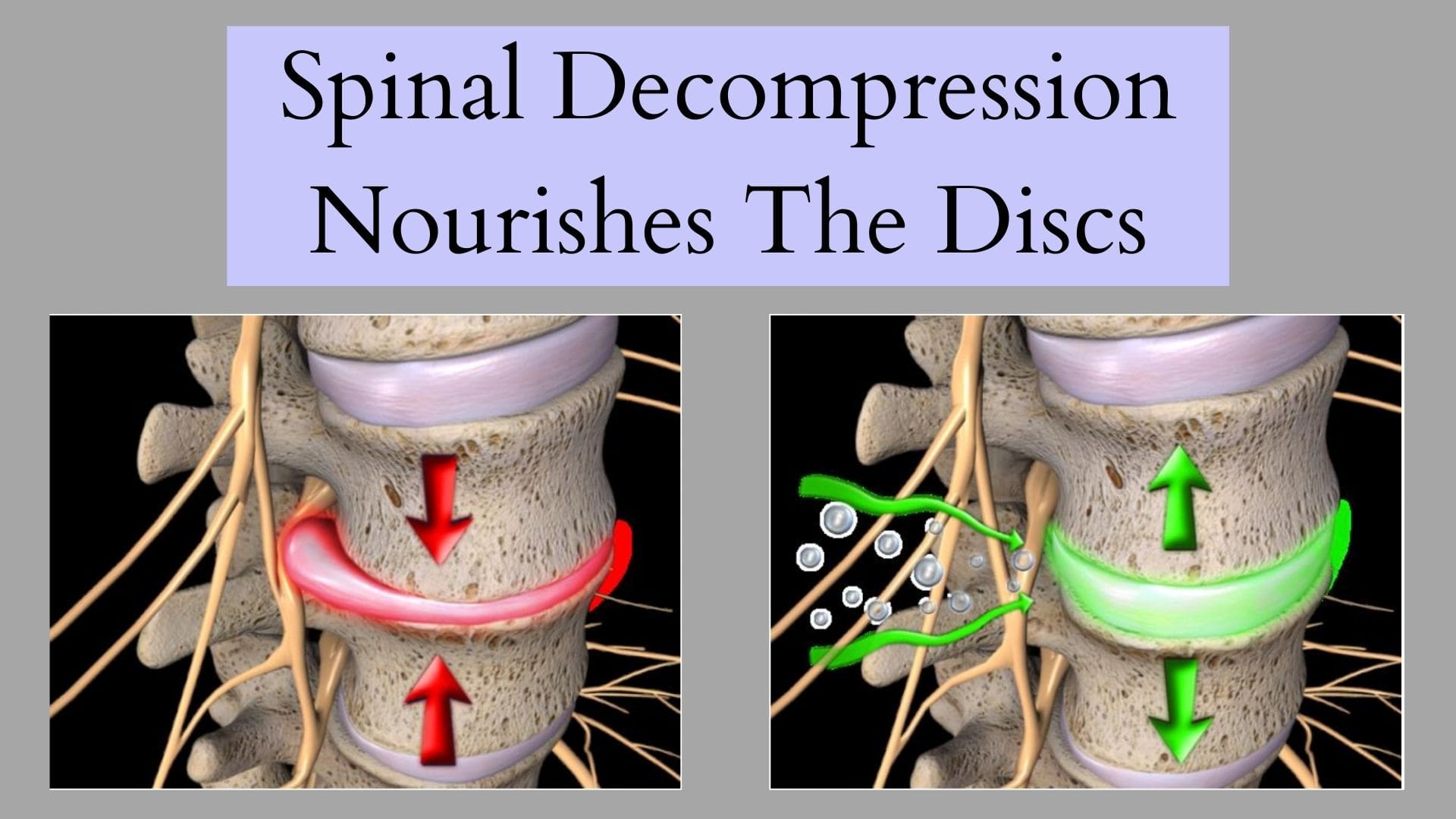 Spinal Decompression Reducing Intradiscal Pressure
With spinal decompression being incorporated to reduce the effects of herniated discs, individuals are strapped into a traction machine in a supine position. They will feel a mechanical pull to their spines as the herniated disc returns to its original position and the height of the spinal disc increases. (Oh et al., 2019) This allows the negative pressure from the traction to increase the body's blood flow for the nutrients and fluids to rehydrate the discs while allowing the body's natural healing process to kick into full gear. (Choi et al., 2022) After a few consecutive sessions with spinal decompression, many individuals will notice that the pain in their neck, back, and shoulders has decreased and that they can return to their daily activities. Spinal decompression allows the individual to regain their health and well-being while also reminding them to be more mindful of what certain factors can cause the pain to return to the spine. By being more aware of what is affecting a person's body, they have the tools to continue their health and wellness journey.
---
References
Blamoutier, A. (2019). Nerve root compression by lumbar disc herniation: A french discovery? Orthop Traumatol Surg Res, 105(2), 335-338. doi.org/10.1016/j.otsr.2018.10.025
Choi, E., Gil, H. Y., Ju, J., Han, W. K., Nahm, F. S., & Lee, P. B. (2022). Effect of Nonsurgical Spinal Decompression on Intensity of Pain and Herniated Disc Volume in Subacute Lumbar Herniated Disc. International Journal of Clinical Practice, 2022, 6343837. doi.org/10.1155/2022/6343837
Cunha, C., Silva, A. J., Pereira, P., Vaz, R., Goncalves, R. M., & Barbosa, M. A. (2018). The inflammatory response in the regression of lumbar disc herniation. Arthritis Res Ther, 20(1), 251. doi.org/10.1186/s13075-018-1743-4
Ge, C. Y., Hao, D. J., Yan, L., Shan, L. Q., Zhao, Q. P., He, B. R., & Hui, H. (2019). Intradural Lumbar Disc Herniation: A Case Report and Literature Review. Clin Interv Aging, 14, 2295-2299. doi.org/10.2147/CIA.S228717
Jin, Y. Z., Zhao, B., Zhao, X. F., Lu, X. D., Fan, Z. F., Wang, C. J., Qi, D. T., Wang, X. N., Zhou, R. T., & Zhao, Y. B. (2023). Lumbar Intradural Disc Herniation Caused by Injury: A Case Report and Literature Review. Orthopaedic Surgery, 15(6), 1694-1701. doi.org/10.1111/os.13723
Oh, H., Choi, S., Lee, S., Choi, J., & Lee, K. (2019). Effects of the flexion-distraction technique and drop technique on straight leg raising angle and intervertebral disc height of patients with an intervertebral disc herniation. Journal of Physical Therapy Science, 31(8), 666-669. doi.org/10.1589/jpts.31.666
Ramos, G., & Martin, W. (1994). Effects of vertebral axial decompression on intradiscal pressure. J Neurosurg, 81(3), 350-353. doi.org/10.3171/jns.1994.81.3.0350
Wang, W., Long, F., Wu, X., Li, S., & Lin, J. (2022). Clinical Efficacy of Mechanical Traction as Physical Therapy for Lumbar Disc Herniation: A Meta-Analysis. Comput Math Methods Med, 2022, 5670303. doi.org/10.1155/2022/5670303
Disclaimer
Post Disclaimers
Professional Scope of Practice *
The information herein on "The Effects Of Vertebral Decompression On Intradiscal Pressure" is not intended to replace a one-on-one relationship with a qualified health care professional or licensed physician and is not medical advice. We encourage you to make healthcare decisions based on your research and partnership with a qualified healthcare professional.
Blog Information & Scope Discussions
Our information scope is limited to Chiropractic, musculoskeletal, physical medicines, wellness, contributing etiological viscerosomatic disturbances within clinical presentations, associated somatovisceral reflex clinical dynamics, subluxation complexes, sensitive health issues, and/or functional medicine articles, topics, and discussions.
We provide and present clinical collaboration with specialists from various disciplines. Each specialist is governed by their professional scope of practice and their jurisdiction of licensure. We use functional health & wellness protocols to treat and support care for the injuries or disorders of the musculoskeletal system.
Our videos, posts, topics, subjects, and insights cover clinical matters, issues, and topics that relate to and directly or indirectly support our clinical scope of practice.*
Our office has reasonably attempted to provide supportive citations and has identified the relevant research study or studies supporting our posts. We provide copies of supporting research studies available to regulatory boards and the public upon request.
We understand that we cover matters that require an additional explanation of how it may assist in a particular care plan or treatment protocol; therefore, to further discuss the subject matter above, please feel free to ask Dr. Alex Jimenez, DC, or contact us at 915-850-0900.
We are here to help you and your family.
Blessings
Dr. Alex Jimenez DC, MSACP, RN*, CCST, IFMCP*, CIFM*, ATN*
email: coach@elpasofunctionalmedicine.com
Licensed as a Doctor of Chiropractic (DC) in Texas & New Mexico*
Texas DC License # TX5807, New Mexico DC License # NM-DC2182
Licensed as a Registered Nurse (RN*) in Florida
Florida License RN License # RN9617241 (Control No. 3558029)
Presently Matriculated: ICHS: MSN* FNP (Family Nurse Practitioner Program)
Dr. Alex Jimenez DC, MSACP, RN* CIFM*, IFMCP*, ATN*, CCST
My Digital Business Card