Lower/Lumbar Back Total Disc Replacement or Fusion Options
Many doctors/surgeons rely on the widely adopted lumbar spinal fusion. However, experts have asserted that lumbar total disc replacement or TDR should be made available and increased for treating degenerative disc disease and other spinal conditions. Individuals interested in total disc replacement, the ability to have it done, and if insurance will pay? What to know about TDR and fusion before deciding and moving forward.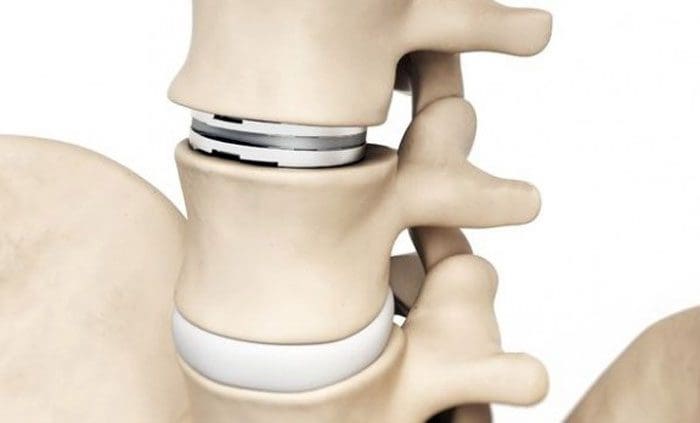 Total Disc Replacement
Spinal fusion has been the traditional approach for relieving lower back pain. In this procedure, a bone graft is inserted between two or more vertebrae. This eliminates movement that causes pain or could be dangerous to the individual. However, the worn-out, injured, or damaged disc is fully replaced, even a completely degenerated disc, with a metal and/or plastic one. Total disc replacement demands more on a technical level than spinal fusion. Benefits from lumbar TDR surgery include:
Shown to be a safe procedure with minimal complications
Significant improvement in health and quality of life
High rates of successful outcomes
Mobility is preserved
Who Needs Disc Replacement?
Low back problems affect more than a third of the population. This can come from:
Personal
Work
Sports
Automobile injuries
Aging
All are risk factors
Fusion or Total disc replacement
Fusion reduces and eliminates motion around the affected area which also changes with the spine's mechanics. It can also place increased stress on the surrounding segments. However, the lack of motion is to eliminate the pain. Total disc replacement does increase mobility, but it can't fully relieve the pain.  It can relieve pain generated from the disc but not from other causes. TDR has been shown to:
Provides motion preservation
Reduces staying at the hospital
Provides long-term durability
Lower reoperation rates compared to fusion
Total disc replacement issues:
The procedure is more time-consuming
A lot of time making decisions
A lot of time preparing
Looking at the X-rays of the discs above and below, the surgeon has to make sure they choose the right size. An example could be the patient has a narrow disc space. The narrow space needs to be mobilized back to a normal height that cannot be too high or too short. Finally, the surgeon has to make sure that the disc is anchored and fits properly.
Why Surgeons Still Choose Fusion?
Despite the benefits, there are reasons why surgeons still choose fusion.
There are strict rules as to when TDR can be used. This means insurers are prone only to approve fusion procedures.
The surgical technique is challenging. TDR surgery is a highly demanding procedure. Many doctors that have specialized in fusion for 20 years or more can be reluctant to perform the procedure.
Complications and revision surgeries. Reoperations are sometimes necessary, but this happens in both fusion and TDR.
Individual Needs
Fortunately, most individuals with lower back problems never need total disc replacement. And those that do have severe pain/conditions are recommended to try non-invasive/surgical treatment. This ranges from:
Chiropractic
Physical therapy
Massage
Imaging and lab tests will be required.
However, if an operation is necessary, ask questions about both procedures. If a surgeon insists that fusion is the only option, ask why total disc replacement is not an option?
---
Body Composition Testing
---
Protein and Weight Loss
Protein is one of three basic macronutrients found in food. Proteins are made up of smaller units called amino acids. There are 22 amino acids, with 9 of these being essential. This means the body needs them, as the body cannot produce them. These essential amino acids can be obtained by eating protein-rich foods like:
Eggs
Meat
Fish
Vegetarian/vegan options include:
Nuts
Seeds
Beans
Tofu
Generally, all the essential amino acids cannot be obtained from just one food. Therefore it is recommended to eat a variety of animal and plant-based proteins. Protein is in almost every structure and function of the body.
Antibodies
These proteins fight off any infections, bacteria, etc.
Repair, maintenance, and structural
Proteins are the building blocks of the body's muscles, bones, skin, and hair.
Hormones
Chemical messenger proteins are how cells and organs communicate. For example, Growth Hormone affects muscle gain and fat loss.
Enzymes
Not all proteins are enzymes; however, all enzymes are proteins. These proteins are catalysts or starters for chemical reactions in the body.
Transportation and storage
Some proteins carry molecules where they are needed. Like hemoglobin or the red blood cells carry oxygen to cells, then transport carbon dioxide away.
Not getting enough protein in one's diet can have serious consequences on the body's health. Without enough protein, the muscles can begin to atrophy or waste away, taking Lean Body Mass, strength, and energy away as well.
The information herein is not intended to replace a one-on-one relationship with a qualified healthcare professional or licensed physician and is not medical advice. We encourage you to make your own health care decisions based on your research and partnership with a qualified health care professional. Our information scope is limited to chiropractic, musculoskeletal, physical medicines, wellness, sensitive health issues, functional medicine articles, topics, and discussions. We provide and present clinical collaboration with specialists from a wide array of disciplines. Each specialist is governed by their professional scope of practice and their jurisdiction of licensure. We use functional health & wellness protocols to treat and support care for the injuries or disorders of the musculoskeletal system. Our videos, posts, topics, subjects, and insights cover clinical matters, issues, and topics that relate to and support, directly or indirectly, our clinical scope of practice.* Our office has made a reasonable attempt to provide supportive citations and has identified the relevant research study or studies supporting our posts. We provide copies of supporting research studies available to regulatory boards and the public upon request.
We understand that we cover matters that require an additional explanation of how it may assist in a particular care plan or treatment protocol; therefore, to further discuss the subject matter above, please feel free to ask Dr. Alex Jimenez or contact us at 915-850-0900.
Dr. Alex Jimenez DC, MSACP, CCST, IFMCP*, CIFM*, ATN*
email: coach@elpasofunctionalmedicine.com
phone: 915-850-0900
Licensed in: Texas & New Mexico*
References
Salzmann, Stephan N et al. "Lumbar disc replacement surgery-successes and obstacles to widespread adoption." Current reviews in musculoskeletal medicine vol. 10,2 (2017): 153-159. doi:10.1007/s12178-017-9397-4
Hopkins overview of Lumbar TDR (for consumers) https://www.hopkinsmedicine.org/health/treatment-tests-and-therapies/lumbar-disk-replacement
"Comparison of Lumbar Total Disc Replacement With Surgical Spinal Fusion for the Treatment of Single-Level Degenerative Disc Disease: A Meta-Analysis of 5-Year Outcomes From Randomized Controlled Trials", Zigler J, et al., Global Spine Journal, June 2018, PMC602295 https://www.ncbi.nlm.nih.gov/pmc/articles/PMC6022955/
"Overview of Lumbar TDR" (for consumers); Johns Hopkins Medical Center https://www.hopkinsmedicine.org/health/treatment-tests-and-therapies/lumbar-disk-replacement