There's no evidence that a growing trend called whole body cryotherapy is effective, but it does pose a number of risks, the U.S. Food and Drug Administration warns.
In whole body cryotherapy, people are placed in an enclosed space and exposed to vapors that reach ultra-low temperatures ranging from minus 200 to minus 300 degrees Fahrenheit, typically for two to four minutes.
Many spas and wellness centers claim that whole body cryotherapy can treat diseases and conditions such as Alzheimer's, fibromyalgia, migraines, rheumatoid arthritis, multiple sclerosis, stress, anxiety or chronic pain.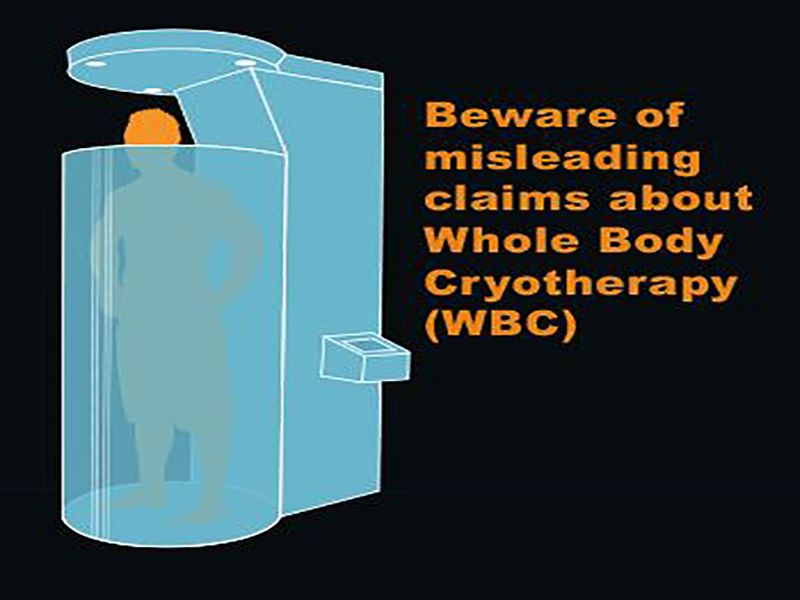 "Based on purported health benefits seen in many promotions for cryotherapy spas, consumers may incorrectly believe that the FDA has cleared or approved [whole body cryotherapy] devices as safe and effective to treat medical conditions. That is not the case," Dr. Aron Yustein, a medical officer in the FDA's Center for Devices and Radiological Health, said in an agency news release.
"Given a growing interest from consumers in whole body cryotherapy, the FDA has informally reviewed the medical literature available on this subject. We found very little evidence about its safety or effectiveness in treating the conditions for which it is being promoted," Yustein said.
The FDA Warned That Whole Body Cryotherapy Poses A Number Of Risks
Including frostbite, burns and eye injury from extremely low temperatures.
According to Dr. Anna Ghambaryan, an FDA scientific reviewer, another potential hazard of whole body cryotherapy is asphyxiation (suffocation), "especially when liquid nitrogen is used for cooling."
The addition of nitrogen vapors to a closed room lowers the amount of oxygen in the room and can result in oxygen deficiency, which could lead to the loss of consciousness, she explained in the news release.
Another concern is that patients who decide to have whole body cryotherapy — especially if they choose it over treatments shown to be effective and safe — may have a worsening of, or lack of improvement in, their health condition, the FDA said.
If you're considering whole body cryotherapy or already using it, discuss it with your doctor, Yustein advised.
SOURCE: U.S. Food and Drug Administration, news release
News stories are written and provided by HealthDay and do not reflect federal policy, the views of MedlinePlus, the National Library of Medicine, the National Institutes of Health, or the U.S. Department of Health and Human Services.
Chiropractor & Functional Medicine Practitioner ⚕Injury & Sciatica Specialist • Author • Educator • 915-850-0900 📞
We Welcome You 👊🏻.
Purpose & Passions: I am a Doctor of Chiropractic specializing in progressive, cutting-edge therapies and functional rehabilitation procedures focused on clinical physiology, total health, practical strength training, and complete conditioning. We focus on restoring normal body functions after neck, back, spinal and soft tissue injuries.
We use Specialized Chiropractic Protocols, Wellness Programs, Functional & Integrative Nutrition, Agility & Mobility Fitness Training and Rehabilitation Systems for all ages.
As an extension to effective rehabilitation, we too offer our patients, disabled veterans, athletes, young and elder a diverse portfolio of strength equipment, high-performance exercises and advanced agility treatment options. We have teamed up with the cities premier doctors, therapist and trainers to provide high-level competitive athletes the possibilities to push themselves to their highest abilities within our facilities.
We've been blessed to use our methods with thousands of El Pasoans over the last three decades allowing us to restore our patients' health and fitness while implementing researched non-surgical methods and functional wellness programs.
Our programs are natural and use the body's ability to achieve specific measured goals, rather than introducing harmful chemicals, controversial hormone replacement, un-wanted surgeries, or addictive drugs. We want you to live a functional life that is fulfilled with more energy, a positive attitude, better sleep, and less pain. Our goal is to ultimately empower our patients to maintain the healthiest way of living.
With a bit of work, we can achieve optimal health together, no matter the age or disability.
Join us in improving your health for you and your family.
It's all about: LIVING, LOVING & MATTERING! 🍎
Welcome & God Bless
EL PASO LOCATIONS
Central:
6440 Gateway East, Ste B
Phone: 915-850-0900
East Side:
11860 Vista Del Sol, Ste 128
Phone: 915-412-6677