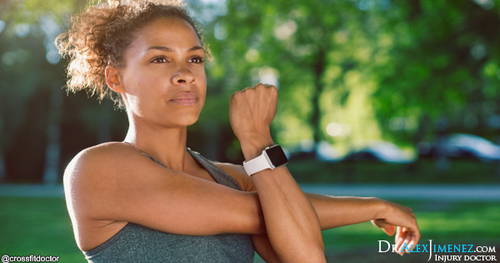 Many variations of SLAP lesions can primarily be treated conservatively with methods to initially improve the patho-mechanical factors that affect SLAP lesions, such as glenohumeral internal rotation deficit (GHIRD) and scapular dyskinesis. With a majority of type 1 lesions, this can be significantly effective in eliminating the symptoms of the lesion without the need for surgery. However, once an athlete has surgically treated their SLAP lesions, they can follow a similar rehabilitation process to achieve overall wellness.
Minor type-1 SLAP lesions may only require a simple debridement without disrupting the biceps anchor, whereas type-2 SLAP lesions are the most commonly seen type by many healthcare providers, involving a detachment of the biceps anchor from the labrum. Type-2 lesions can be treated with arthroscopic fixation of the superior labrum to develop biceps anchor stability.
Type 3 SLAP lesions are identified by bucket-handle tears along the superior labrum with intact biceps anchor. This bucket handle fragment can easily be debrided by an arthroscopic shaver, and further treatment may often not be needed. The other types of SLAP lesions are not as common as the type 2 lesions, although if they do occur, these will almost certainly require surgical intervention.
A large database study found that the highest incidence of repair is among the 20-29 years and 40-49 years of age groups. This is believed to occur due to the younger population's higher participation in sports activities. In the 40-49-year-old group however, the high incidence most likely occurs due to the degeneration of the labrum, which may primarily develop around this age. Also men have a three times higher incidence of repair. This is believed to occur due to how males are more likely to participate in a sport which may cause SLAP lesions.  
Dr. Alex Jimenez D.C.,C.C.S.T's insight:
When it comes to SLAP lesions, a common type of shoulder injury among athletes, there are numerous types of treatment options available for the affected individuals. According to the type of lesion, the age of the individual and the functional level of the athlete, a specific treatment plan may be prescribed for these SLAP lesions. For more information, please feel free to ask Dr. Jimenez or contact us at (915) 850-0900.