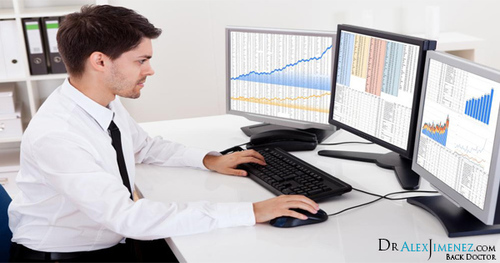 Sitting for extended periods of time while hunching over a desk can cause discomfort, numbness and spine misalignment over time if the improper posture is not corrected. Holding the body upright can also further increase pressure and tension in muscles, ligaments, joints, and other tissues surrounding the spine. A sedentary lifestyle where the individual doesn't take frequent breaks throughout their workday to stand and stretch can gradually lead to cardiovascular disease due to the decreased blood flow, tightened hip flexors, shortened hamstrings, pinched nerves and many other physical injuries and/or conditions in the long run.
Aches and pains on the body, particularly around the spine, herniated discs, nerve complications and painful joints are direct results of working while sitting in an improper posture for prolonged hours of the day. When you're in a seated position, a lot of pressure is being placed directly on the spine and its surrounding structures. Our bodies were designed to stand upright and maintaining a seated position can be physically stressful.
"The weight is distributed while in a standing position," explained Kelly McGonigal, Ph.D., a health psychologist at Stanford University and a leading expert in neck and back pain, "That's not the case with sitting. McGonigal added, "When you sit, you distort the natural curve of the spine, which means your back muscles have to do something to hold your back in shape because you're no longer using the natural curves of the spine to lift yourself up against gravity."
Approximately 80 percent of individuals in the United States alone may experience some form of chronic pain in their lifetime. Ultimately, working on a sitting position for extended periods of time per day is putting a tremendous mental and physical stress on our bodies.
Dr. Alex Jimenez D.C.,C.C.S.T's insight:
Sitting is one of the most difficult positions for the body to maintain. Sitting for prolonged periods of time while hunched over in a chair can build excessive pressure on the spine and affect the blood circulation in the legs. For an individual that spends their workdays sitting down, the long term result of an improper posture can greatly alter the individual's overall health. For more information, please feel free to ask Dr. Jimenez or contact us at (915) 850-0900.