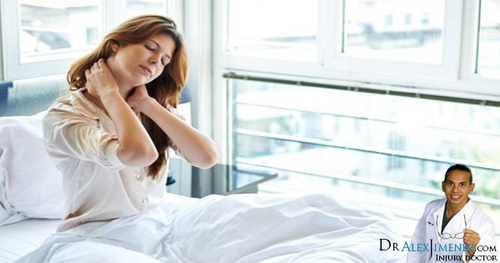 Occasionally, people may wake up with neck pain from sleeping in an awkward position throughout the night. While often regarded as a common issue that is nothing more than irritating, the symptom of neck pain associated with incorrect sleeping posture can be extremely painful.
During deep sleep, the head can drop into a position which may place unnecessary amounts of stress on the neck muscles and other surrounding tissues of the cervical spine. After some time in an uncomfortable position, the brain is capable of sensing this disruption where it will then command your body to reposition itself in order for the neck to get some relief. Alternatively, many people can also choose to ignore the agitation, aggravating the strain on the neck further. Consequently, neck pain the following morning is the most common outcome. While there's a variety of methods to prevent neck pain as well as a variety of treatments for individuals with other neck complications, if you're already experiencing neck pain symptoms, there's several simple solutions you can follow before you receive medical attention to find relief for your neck pain.   
If the individual experiences neck pain as a result of improper sleeping posture or from other sleep complications on a regular basis, it's crucial for the individual so seek immediate medical attention to properly diagnose any possible injuries or underlying conditions the person might have and follow through with an appropriate treatment to help restore the individual's natural state of being as well as improve their overall wellness to ensure them a good night's sleep.
Dr. Alex Jimenez D.C.,C.C.S.T's insight:
During sleep, the head can often rest in abnormal positions. While the brain usually signals the body to move and adjust itself to relieve unnecessary strain due to an improper sleeping posture, many individuals still wake up the next day with neck pain. A single case of neck pain can be relieved with several simple solutions, but if the symptoms persist, its essential for the individual to then seek professional medical attention. For more information, please feel free to ask Dr. Jimenez or contact us at (915) 850-0900.