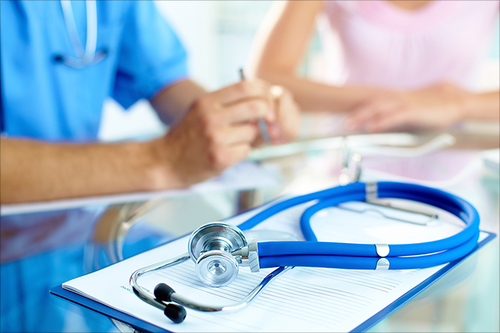 Terren D. Klein, a Board Certified Orthopedic Surgeon who provides excellent orthopedic treatment, procedures and care to their patients to heal them faster.
Along with the treatment of immediate or chronic problems, Dr. Klein strives to integrate the doctrine of prevention in all treatment plans as a way to alleviate possible future difficulties.
As told by Dr. Klein, he had always wanted to be a physician, following in the footsteps of his father. He would make hospital rounds alongside him, remembering how content he would feel by helping other feel better. Then, it wasn't until his years in medical school, rotating in orthopedic surgery, where he observed the ability of repairing bones and reconstructing injured joints, that he saw the amazing benefits of orthopedics. 
For Dr. Terren Klein, being able to help of all ages, from infants to the elderly, seeing them overcome their injuries and resuming their healthy lifestyles, appealed to him greatly. "I am convinced that healing a patient often involves a holistic approach, including health and nutrition, both of body and mind, along with acupuncture, chiropractic care, therapy and other modalities. It is when I treat the person as a whole, that their injuries heal quicker", stated Dr. Klein.
Providing patients with the best care possible to make them heal faster. Call Dr. Terren Klein's offices at (915) 838-3888.
Dr. Alex Jimenez D.C.,C.C.S.T's insight:
With plenty of recognition from numerous patients who've found previous relief, Dr. Terren Klein, orthopedic surgeon, has helped many individuals regain their original healthy lifestyles. Treating symptoms of neck and back pain along with repairing fractures and conditions, Dr. Klein is a highly regarded specialist who's committed to help a majority of individuals achieve their health once more. For more information, please feel free to ask Dr. Jimenez or contact us at (915) 850-0900. 
Advanced Chiropractic & Wellness Authority ⚕ Healthcare Educator • Injury, Sciatica Specialist • 915-850-0900 📞
We Welcome You 👊🏻.
Purpose & Passions: I am a Doctor of Chiropractic specializing in progressive cutting-edge therapies and functional rehabilitation procedures focused on clinical physiology, total health, functional strength training and complete conditioning. We focus on restoring normal body functions after neck, back, spinal and soft tissue injuries.
We use Specialized Chiropractic Protocols, Wellness Programs, Functional & Integrative Nutrition, Agility & Mobility Fitness Training and Cross-Fit Rehabilitation Systems for all ages.
As an extension to dynamic rehabilitation, we too offer our patients, disabled veterans, athletes, young and elder a diverse portfolio of strength equipment, high performance exercises and advanced agility treatment options. We have teamed up with the cities premier doctors, therapist and trainers in order to provide high level competitive athletes the options to push themselves to their highest abilities within our facilities.
We've been blessed to use our methods with thousand of El Pasoans over the last 3 decades allowing us to restore our patients health and fitness while implementing researched non-surgical methods and functional wellness programs.
Our programs are natural and use the body's ability to achieve specific measured goals, rather than introducing harmful chemicals, controversial hormone replacement, un-wanted surgeries, or addictive drugs. We want you to live a functional life that is fulfilled with more energy, positive attitude, better sleep, and less pain. Our goal is to ultimately empower our patients to maintain the healthiest way of living.
With a bit of work, we can achieve optimal health together, no matter the age or disability.
Join us in improving your health for you and your family.
Its all about: LIVING, LOVING & MATTERING! 🍎
Welcome & God Bless
EL PASO LOCATIONS
CENTRAL:
6440 Gateway East, Ste B
EAST SIDE:
11860 Vista Del Sol, Ste 128
PHONE: 915-850-0900 ✔️